www.boltdevs.com/not

e

motionosx/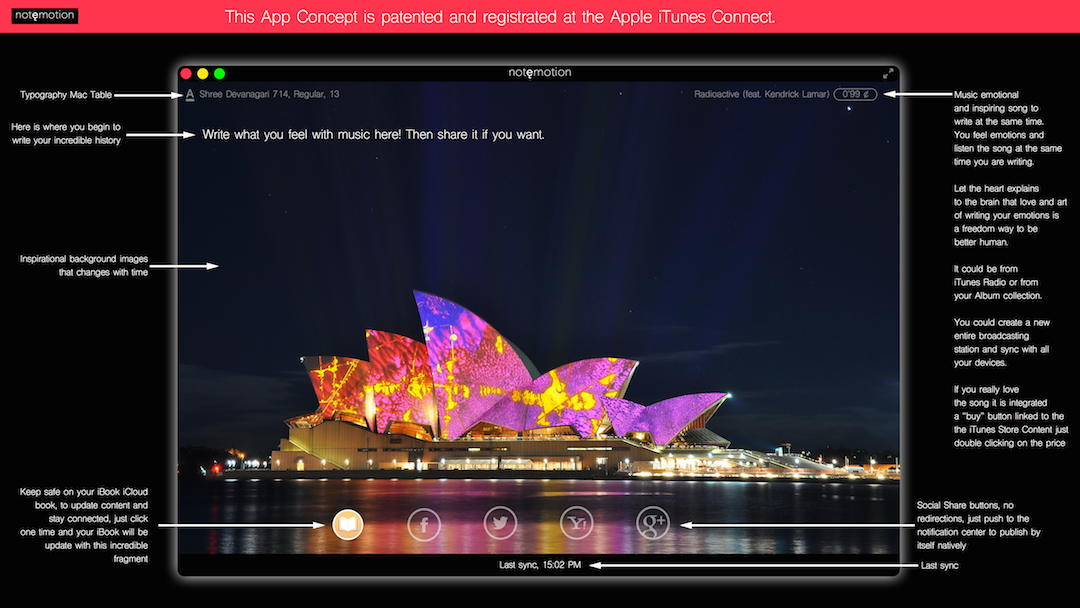 not

ę

motion
***
Music emotional and inspiring song to write at the same time.
You feel emotions and listen the song at the same time you are writing.
Let the heart explains to the brain that love and art of writing your emotions is a freedom way to be better human.
It could be from iTunes Radio or from your Album collection.
You could create a new entire broadcasting station and sync with all your devices.
If you really love the song it is integrated a "buy" button linked to the the iTunes Store Content just double clicking on the price.
***
Social Share buttons, no redirections, just push to the notification center to publish by itself natively.
***
Keep safe on your iBook iCloud book, to update content and  stay connected, just click one time and your iBook will be update with this incredible fragment.
***
Includes a Typography Mac Table.
***
Sync Status is enabled to know if you safe the work, also the app keep in safe your progress cause you can set 1, 5 or 10 minutes auto safe progress or depending how lenght is the sentence it could also auto save.
***
2014 © notęmotion. All Rights Reserved. (Logo)
2014 © notemotion. All Rights Reserved. (App)
2014 © Miguel Gargallo Design. All Rights Reserved.